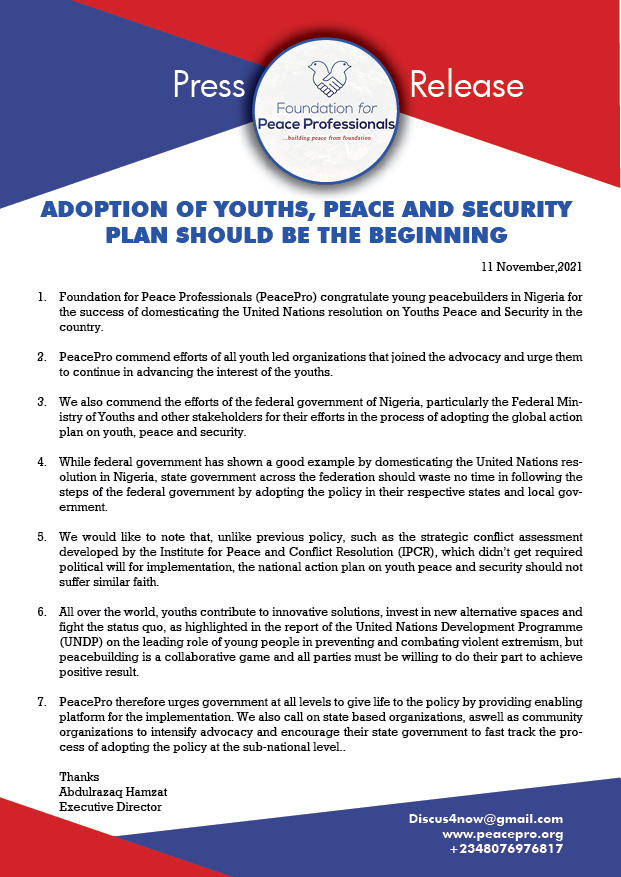 urges state to domestic policy
A peacebuilding organization, Foundation for Peace Professionals simply known as PeacePro has commended the federal government of Nigeria, particularly the Federal Ministry of Youths and other stakeholders for their efforts in the process of adopting the global action plan on youth, peace and security.
The organization also called on state government to follow the lead of the federal government, while raising critical question on the implementation of the policy, which it said should not go in the way of policy before it, such as the conflict assessment of Nigeria.
In a statement by an Executive Director of PeacePro, Mr Abdulrazaq Hamzat, the group stated that, adopting United Nations action plan on youth, peace and security should be the beginning of a long journey, not an end.
Recall that United Nations passed the resolution on Youths, Peace and Security in December 2015 in recognition of the strategic importance of youths in global peace and security.
According to Hamzat, being the second country in the world to adopt the resolution is a good thing for Nigeria, but this alone is not good enough.
"While federal government has shown a good example by domesticating the United Nations resolution in Nigeria, state government across the federation should waste no time in following the steps of the federal government by adopting the policy in their respective states and local government"
Hamzat also noted, the impact of this policy can only be felt if it goes beyond mere policy.
"Unlike previous policy, such as the strategic conflict assessment developed by the Institute for Peace and Conflict Resolution (IPCR), which didn't get required political will for implementation, the national action on youth, peace and security should not suffer similar faith"
All over the world, youths contribute to innovative solutions, invest in new alternative spaces and fight the status quo, as highlighted in the report of the United Nations Development Programme (UNDP) on the leading role of young people in preventing and combating violent extremism, but peacebuilding is a collaborative game and all parties must be willing to play their part to achieve positive result.
We therefore urge government at all levels to give life to the policy by providing enabling platform for the implementation.